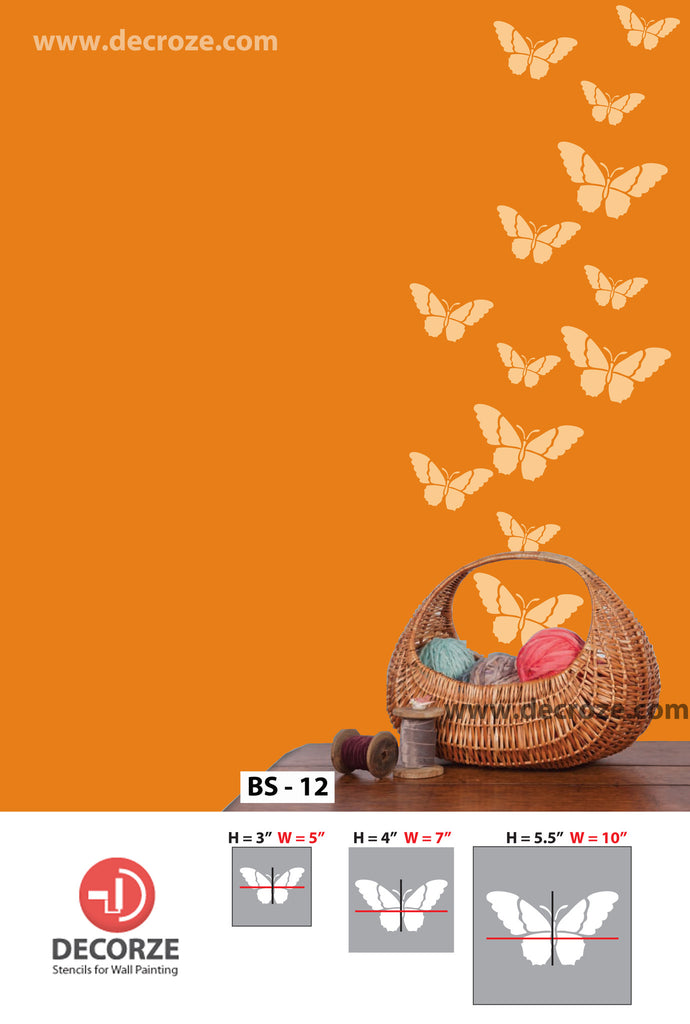 Beautiful butterflies for wall stencils decorze.com, BS-12
Our fun collection of bird and butterfly stencils helps you to decorate your walls in a fraction of the time. Perfect for DIY decor. Use these beautiful Bird and Butterfly stencils for wall murals, painted sky scenes, whimsical accents, allover patterns, kids rooms, nurseries and art/craft projects. 
All of our stencils are made of 125 Micron film.
We ship our stencils fast using "Delhivary" Express Mail in India For International through "India Post"
We offer custom scaling of our designs up or down to accommodate your specific project.
Wall Stenciling: 

 Super trendy Butterfly stencil template "Up Arrow" for DIY home decor,Wall Painting furniture and crafts! It will look stunning stenciled on your pillows, headboard or a piece of furniture! It also looks great stenciled on sisal rugs, tablecloths, curtains or lamp shades! Butterfly stencils are super popular and are sure to spice up any contemporary interior

This Butterfly Stencils Package Includes 3 Stencils of different Size

Main Stencil Size : Hight-5.5"/ Width-10.5" (Inches) this is size of stencil paper
Medium Stencil Size : Hight-3.6"/ Width-7" (Inches) this is size of stencil paper
Least Stencil Size : Hight-2.5"/ Width-5" (Inches) this is size of stencil paper
This stencil Includes: This stencil pattern comes with an additional 3 Butterfly  Stencil It makes it easy to fill the gaps close to the top, bottom & Sides of the wall, after your main pattern is stenciled.

Click Here How to Paint Stencil: